Upcoming Events
Check out our Events Page for details on class opportunities with Mareko and other events throughout the year.
See All events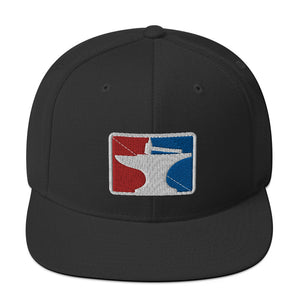 "The Heavy" Snapback Hat
Sale price Price $35.00 Regular price Unit price / per
Artisans of Steel Podcast
In the Artisans of Steel Interview Series, Mareko chats with leaders in the knifemaking industry and delves into the minds behind some of the best steel out there.
The BAMF Apron
An apron for those who work with fire in the shop & in the kitchen.

This rocking cool apron was designed by Mareko and brought to life by Kate Meier at Craftmade Aprons. After a year of design and prototyping, the BAMF Apron has some amazing features:

Made from Kevlar®
Protects against slashes, cuts and punctures.
Flame resistant up to 800 degrees Fahrenheit.
Water resistant & protects from chemicals.
14 tool pockets, including hidden chest cellphone pocket
2 ambidextrous tool loops
Magnetic clip for 1.5" wide cross-back shoulder straps
GET YOURS HERE
Who is behind Maumasi Fire Arts?
Bladesmith Mareko Maumasi and his wife, Sarah, are the dynamic duo making MFA a reality.
find out More
Get a Glimpse Behind the Scene with Knife Talk Podcast
Knife Talk Podcast is hosted by myself, Craig Lockwood of Chop Knives and Geoff Feder of Feder Knives. We aim to share knowledge with the knife making community, chefs and those in the culinary world via our interactive and (hopefully) entertaining weekly show.
Follow Mareko on Instagram
MFA Amazon Store *NOTE* As an Amazon Associate, Maumasi Fire Arts earns from qualifying purchases.
Mareko Maumasi is a knifemaker who truly understands chef's knives at a level that can only be fully grasped by an accomplished chef. His skill as a knifemaker, combined with this understanding of chef's knives, is clearly going to set him apart as one of the great living chef's knife makers.
Grabbing this knife was like finding that perfect pair of shoes that feel good the first time you try them on and don't need to be broken in.
I wanted to write to you to tell you how pleased I am with the knife you made. It is the perfect all purpose knife in the kitchen. It has great balance, the handle is very comfortable in a number of different grips. The integral bolster makes it easy to use this knife in a pinch grip. I also love how unique and dramatic it is with the bold Damascus pattern and the red mallee burl handle. It is truly a one of kind piece that I'm happy to own.
In the short time [Mareko] has been making knives he has shown the ability to innovate on a level that is very impressive.
[This is] the sort of unique, high-quality knife you pass down to your kids.