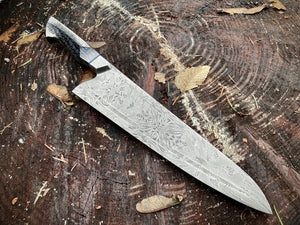 BAMF Collaboration #1 - Maumasi - Bidinger
Sale price Price $4,500.00 Regular price Unit price / per
The Details
10.5" Forged Integral Demogorgon Mosaic Damascus Gyuto with 2.5" Recurve Heel, Blue and Black G10 Spacers, and Museum-Fit, Deep Blue, Carbon Fiber Scale Faceted Western Handle
The Collaboration
To introduce his new mosaic damascus pattern, Demogorgon, Mareko Maumasi wanted to do something special, so he reached out to his friend and BAMF knifemaker, Dan Bidinger, about his new BAMF Collaboration line. Dan was all in, and the BAMF Collaboration #1 was born.
First, Mareko took his Demogorgon mosaic damascus and forged it into this beautiful 10.5" Gyuto, adding his signature forged integral bolster, a Maumasi classic recurve heel measuring 2.5" tall, and heat-treated it to 62HRC.
Next, he shipped it off to Dan, who perfectly exemplified his talent and skill by incorporating his signature, high-performance B-grind to greatly reduce cut friction and force, as well as reduce the overall weight and aid in food release.
Then, Dan complemented the blade with a beautifully contoured, and incredibly comfortable, faceted western handle using Museum-Fit, hidden-pin, frame-handle construction. He chose stunning Deep Blue carbon fiber scales on a carbon fiber frame, and added blue and black G10 spacers to marry the transition from the blade.
When Mareko received the knife back from Dan, he put on the final details, adding his new BAMF Collaboration mark, etched the Demogorgon steel until it popped, and hand-sharpened it to an overall 20° primary bevel.
This beautiful BAMF Collaboration is the first of it's kind, and is ready to make someone very happy with its high-performance, extremely comfortable usability.